I was lucky enough to find the book Ecoholic: Your Guide to the Most Environmentally Friendly Information, Products, and Services
written by Adria Vasil when I was searching for an alternative to my sodium lauryl sulfate (SLS) and hormone-disrupting synthetic fragrance laced shampoo.  The book is based on Adria's column of the same name in Toronto's NOW Magazine – a column Adria has written since 2004.  While I not only found information about the dodgy chemicals in my shampoo and a comprehensive list of less offensive alternatives, I also found a wealth of information about living a greener, healthier life in just about every area imaginable.
Adria covers body care (everything from shampoo to soap to hair removal to body odor, nails, toothcare, makeup and sunscreen), clothing (did you know that 1/3 of a pound of chemicals is used to make one cotton t-shirt?!?), food, baby products, household items and appliances, home improvement, the outdoors (gardening, pest control, barbecues), transportation, sports, holidays, finances (what's lurking in your pension?), business and the biggies like climate change, endangered species, energy and water crisis and food shortages.  And I have no where NEAR mentioned all the topics covered.  I enjoyed reading it cover-to-cover but it's also a book I refer to again and again. The book is truly jam packed with information, tips and advice including an appendix on plastics, a glossary of chemicals and a resource guide at the end of the volume.
Written in a fun easy-to-read conversational tone Ecoholic is an in-depth guide to eco-friendly living.  Adria informs and inspires without sounding judgmental or radical.  The message she'd like you to take away is that by doing what you can, one step at a time you will have a positive impact on the planet and your peers.  Lead by example!
You can find Ecoholic at Barnes and Noble: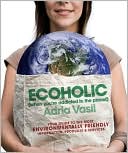 Also be sure to look for Adria Vasil's highly anticipated follow-up to Ecoholic – Ecoholic Home: The Greenest, Cleanest, Most Energy-Efficient Information Under One (Canadian) Roof). Ecoholic Home focuses on the home – from cleaning and cooking to renovating, building, designing and moving.
Visit the Ecoholic website at www.ecoholic.ca