Advocates of sustainable farming cite many reasons to support local family farms over the large industrial factory farms.  Environmental, local economy and work environment issues are often first on the list of reasons to buy locally grown produce.
Another hot topic closely tied to the small family farm vs. factory farm debate is the American diet.  Many people struggle to afford a healthy diet.  Unhealthy food is often less expensive than healthy foods like fruits and vegetables because fast food and processed foods use ingredients from factory farmed crops subsidized by the federal government.  When you can buy a McDonalds hamburger for less than a head of organic broccoli there is a serious problem.
Factory farming is so deeply embedded in our economy that it seems almost impossible to dig our way out.  When the Secretary of Agriculture proclaimed the week of August 1-7, 2010 as National Farmers Market Week, supporters of sustainable farming cheered.  When Michelle Obama expanded the White House garden and added bee hives, supporters of the "locally grown" movement cheered again.
As I celebrated National Farmers Market Week I couldn't help but scratch my head.  There I was, on the United States Department of Agriculture's Agricultural Marketing Service website, reading about local food marketing and farmers markets and rah, rah, rah.  Yay!  Right?  Hhmm… isn't this the same USDA that allows genetically modified seed companies to run the local farmers out of town, so to speak?
Monsanto Strikes Again
Take the Monsanto-engineered "Roundup Ready" sugar beet biotech crop.  The USDA approved the genetically modified crop and discounted any environmental effects or cross-contamination issues because farmers were still free to buy non-GM seeds.  Well… if you've seen Food, Inc. you know that the "freedom" allowed by Monsanto is virtually non-existant.  The poor farmer whose field is contaminated with Monsanto GM beets because the guy next door is farming a genetically modified crop of the "Roundup Ready" sugar beets will inevitably be hit with a lawsuit from Monsanto that has the potential to put him out of business.  Bye-bye freedom.
They are still battling this one out in court.  On August 13, 2010, a federal district judge in California rescinded the USDA's approval of genetically engineered "Roundup Ready" sugar beets by vacating the USDA order to deregulate GM sugar beets.  But Monsanto wins again – in the absence of a permanent injunction the seeds are still being planted while the USDA has until 2011 to write an Environmental Impact Statement.
Bad Business – USDA's Conflict of Interest
The most disturbing and, in my opinion, unethical part of this issue is that the USDA has a vested interest in Monsanto.  The USDA co-owns a patent on Monsanto's Terminator gene.  The Terminator gene renders seeds from the crop it produces sterile.  This means that farmers who use a GM seed with the Terminator gene are not allowed to save seeds for replanting – they are forced to re-purchase seeds from Monsanto every year.
The Dangers of Genetically Engineered Crops
Critics of genetically modified organism (GMO) technology fear that it will inevitably lead to famine and starvation on a wordwide basis.  Billions of people on the planet are supported by farmers who save seeds for replanting.  Most farmers, unless you are one of the government subsidized factory farms, cannot afford to buy new seeds every year.  Saving seeds and replanting is the foundation of family farming and the way food has been grown for thousands of years.  By enabling Monsanto to effectively infiltrate all of America's farms and food supply, whether directly by selling seeds or indirectly via cross-contamination, the government is working in opposition of local family farms and public health.  How can an organization, the USDA, that co-owns a patent on this technology be allowed to make decisions that are in the best interest of the people of the United States?  It just doesn't add up.
Does President Obama Support Sustainable Farming?
So when President Obama plants veggies in his backyard and then turns around and talks about doubling agricultural exports in the next five years it leaves some of us confused.  I'm fairly certain that we aren't going to double exports by having the local family farm sell their artichokes to Canada.  I'm guessing that those agricultural exports President Obama is referring to will be crops like Monsanto's GMO soybeans.
Apparently I'm not the only one scratching my head…  TreeHugger is asking the same question:  Does Obama Really Support Sustainable Agriculture?
What do you think?  Is there a way to support local sustainable farming AND the big aggies and still overhaul our failing food system?  I'm not convinced and would love to hear your thoughts.
To see firsthand how Monsanto is driving sustainable farming off the cliff watch Food, Inc..  It will absolutely change the way you look at food.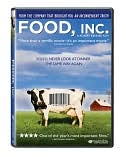 Check out these books for more eye-opening information about our country's food system: